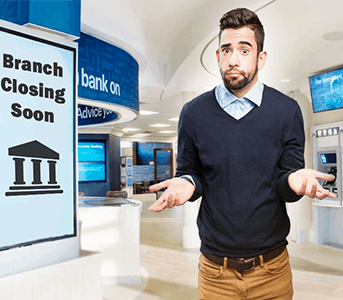 I have talked before about how modern life is re-defining the financial services landscape.
This week, I've been thinking a lot about how banking, in particular, is changing. It gives me an excuse to indulge in some nostalgia.
Now, first things first: I'm no spring chicken.
I started my career at Lloyds Bank when the late Leo McKern was in his pomp and it was still old-fashioned lending, beautiful oak counters and a large, happy team.  The bank extolled traditional values while, reluctantly at first, embraced the new.  I remember the introduction of credit scoring which replaced
the bank's CCCPARTS/ look-them-in-the-eye, approach to lending.
Like I say, I'm no spring chicken.
Increasingly I have seen processes being streamlined, teams shrinking, High Street branches closing, automation on a grand scale and banks retreating from their manic sales cultures.
For me, this means two things.  Fewer opportunities for progression into regulated sales roles.  Fewer customer service and personal banking opportunities.
All of this seems like something of a shame and a lot of skills are being lost to the sector.
Like them or loathe them, the banks have always tried to get service right in a world where many other sectors fall short.
I believe that sales in banking is no bad thing.  A trusted supplier arranging a relevant product to suit a customer's needs is the very essence of sales.  The problem came with poor and inappropriate selling which was not properly managed or reviewed.  Certainly at Lloyds, sales became a bit of a monster and the PPI revolution ensued.
If I was starting my career in banking now, the path would be less certain than it was in 1980 something.  In fact, I might even choose a different path altogether.
At Insure Recruitment, we speak to an increasing number of bank and building society professionals who want to transfer their skills to a new environment.  This is great for us and we see a consistently good calibre of candidates who understand the importance of service and working in a regulated setting.
Some say they miss the sales targets which is music to our ears too.  For those who have great service skills and sales acumen, there really is a world of opportunities out there.